Looking out of my window, seeing my kid busy playing to his heart's content, I felt 'This is it! What better can life give me.' Being around my child is priceless for me and this pandemic has been generous enough to provide me with this possibility. Working from my home cocoon has been an amazing affair for me. I am at my disposal and this keeps me pepped up the whole day.
Though the day is anytime hectic for a working mom, my family is a blessing. We diligently work together to finish our chores. From kitchen to the laundry, grocery shopping to cleaning, we are a bunch of people helping each other out in all possible ways. Yes! We divide and conquer!
But what about cleaning the kitchen and appliances?
Well, when it comes to deep cleaning, especially the kitchen, it does require a bit more expertise and patience, so I keep this errand to myself.
Weekend cleaning was sweat and toil especially when it came to cleaning my microwave oven. Microwave ovens are such an amazing domestic appliance, whether it is evenly reheating the food or preparing some quick and yummilicious dishes for the kids and everyone around.
It is so handy and a big time-saver for a working woman like me, that it's almost a staple in my kitchen now. I use it for baking, heating as well as grilling. So cheese overflows, sauce drips, and bits of burnt food are inevitable. The build-up of grease and grime on walls, racks, and grills is obvious if they aren't regularly cleaned. I get dreary at the very thought of cleaning it. It's a messy chore after all scrubbing and scraping the stuck-on food.
Just thinking about all the heavy-duty scrubbing I'll have to do when it comes to cleaning inside of a microwave gave me the jitters. But, cleaning is important and I'll tell you.
Why is it important to keep the microwave clean?
But I also knew it is imperative to clean inside of a microwave, the grills, trays, and the door to keep it working well for a long time. The reasons are:
Ovens accumulate a lot of grime, encrusted food particles, and tough grease over time which if not cleaned can impart a burnt odor to the next meal being cooked and can cause extensive smoke too as the food will continue to burn.
Food scraps leave stains if allowed to sit on the surface. It ruins the look and the feel of the microwave.
The unit also operates less efficiently if there is food residue all over.
The food spills and the warm and moist space of a microwave can be the best breeding grounds for bacteria and germs.
The dried food particles can also catch on fire which is the last thing anyone wants.
How to clean inside of a microwave?
So, the best bet is to clean inside of a  microwave as soon as possible after use to soften and loosen the grime before scrubbing. Still, over time, the grease and hard stains need the right professional cleaning solution which will clean them off without any mess or stress.
The other day I got my hands on Cif perfect finish oven and grill cleaner.
It's infallible and cleans spot on with great ease. Kudos to this cleaner that spared a lot of elbow grease for me. It cleaned all the old grime better than anything I've used all these years. A big savior for a working mom indeed! Let me share with you how I embarked on this super-easy way to clean inside of a microwave with Cif perfect finish oven and grill cleaner.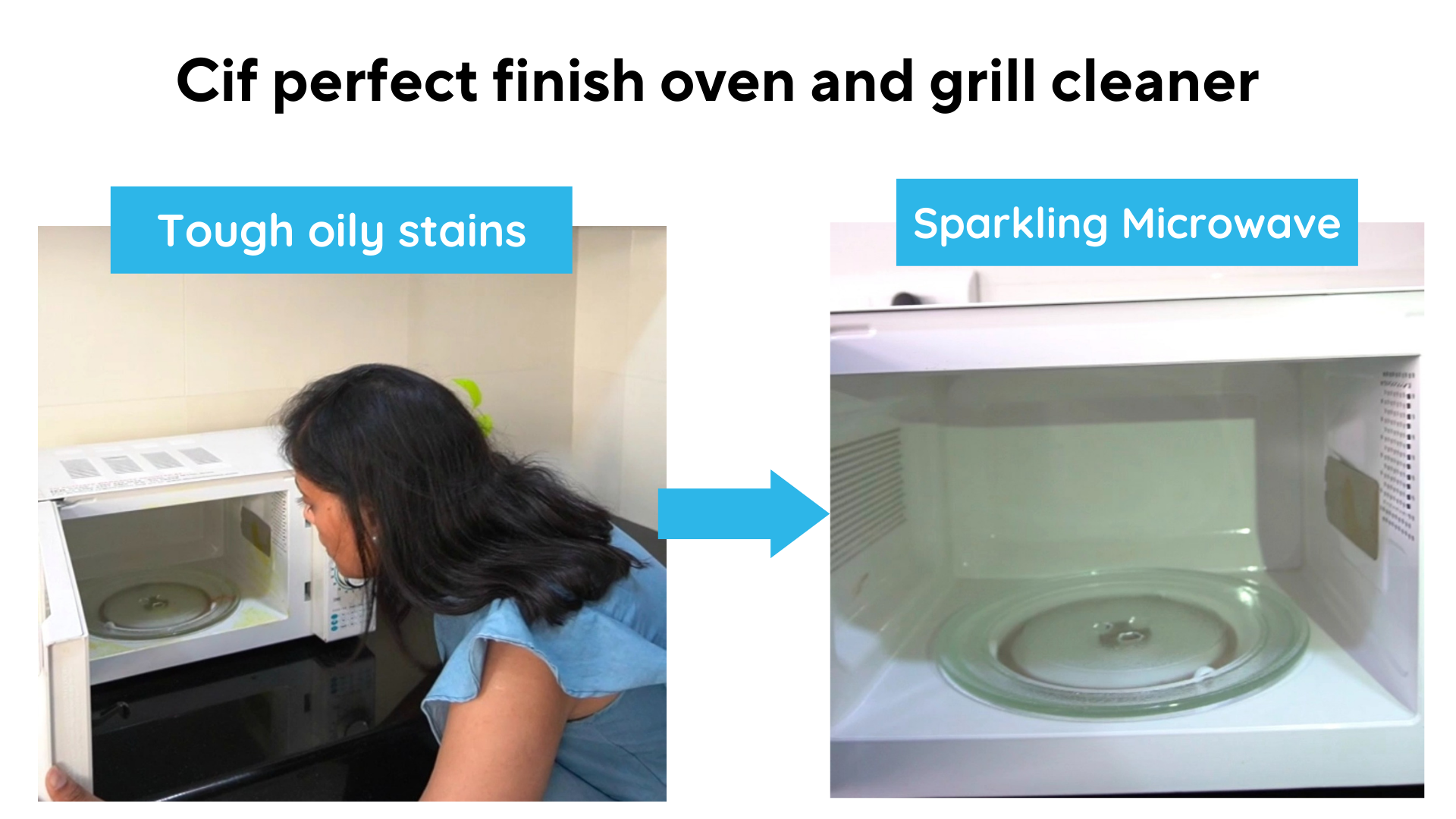 Here's my process to clean inside of a microwave:
Rolled up my sleeves, picked Cif perfect finish oven and grill cleaner (specially designed to fight charred food, tough grease and accumulated grime), and headed straight to my microwave oven.
To start with I turned off and unplugged the microwave before cleaning and ensured that it was cool.
Took out the grills, rack, and turntable. Yes, they were indeed soiled and I could see baked cheese and encrusted food residue here and there.
Applied Cif perfect finish oven and grill cleaner all over the grill, tray, and turntable.
Went back to clean inside of a microwave. I generously sprayed the cleaner directly to the walls (sidewalls and the back one) of my microwave. The glass door also gets smudgy and grimy. So it is necessary to apply it there too.
Using an old toothbrush, spread it to the hard-to-reach areas, avoiding fan and heating elements.
As Cif perfect finish oven and grill cleaner come out in thick foam, it sticks really well to the walls without dripping down. And hence it works much better than any other cleaner.
Let it sit and soak for around 20 to 30 mins, so as to let it do its magic!
Now using a damp sponge, rinsed the grills, turntable, and inside of the microwave.
And lastly, a clean kitchen cloth to wipe it dry.
Finally returned the turntable and rack to my clean oven.
Voila, my microwave was spick and span with a magnificent finish! No bad smell and no fumes!
It miraculously removed all the accumulated hard stains and grease in no time leaving my microwave gleaming and myself beaming.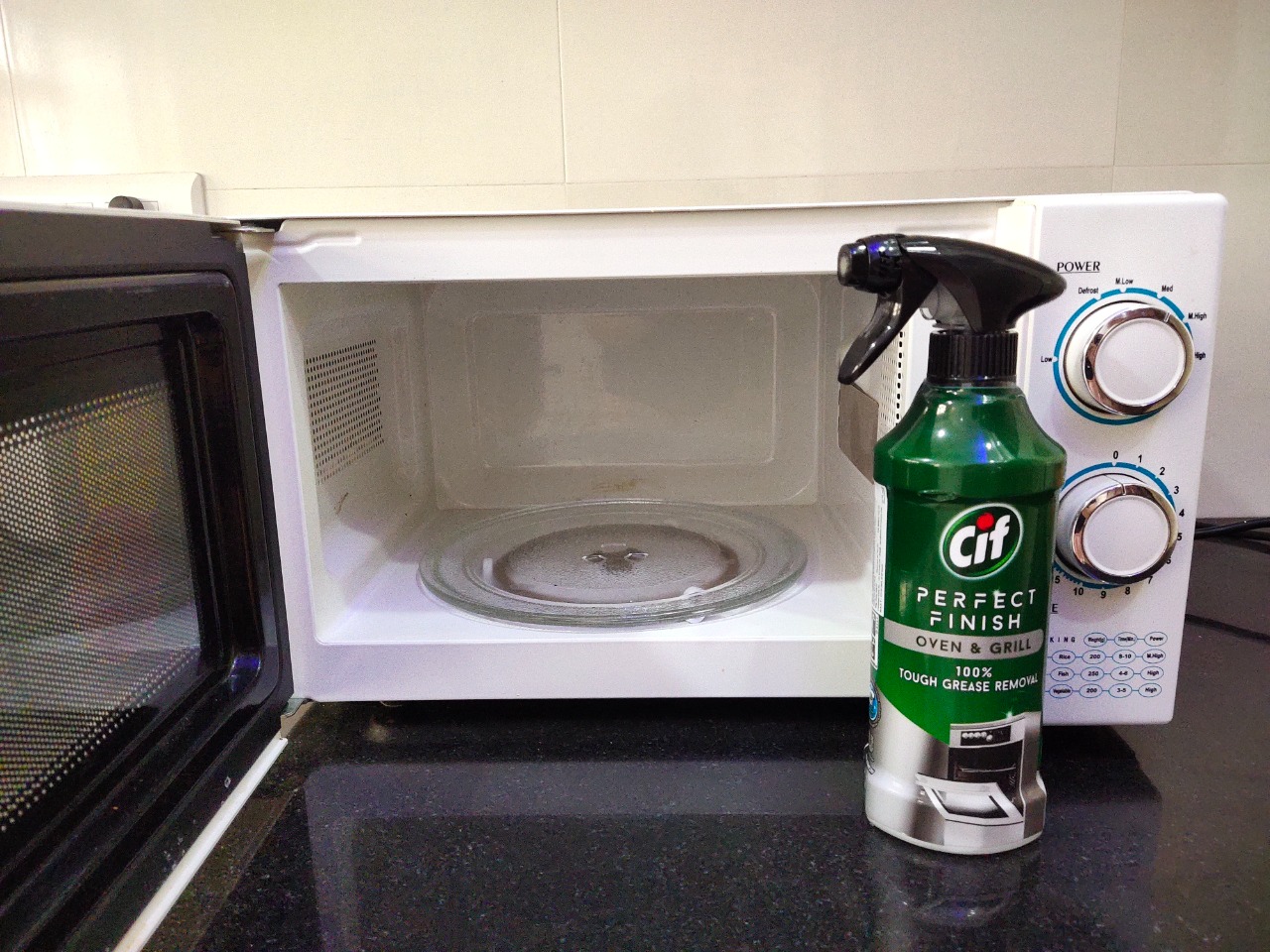 Earlier when I used to sweat it out with scrubbing and scraping, cleaning inside of a microwave is now a cakewalk with Cif perfect finish oven and grill cleaner.
Baking time, now with a clean inside of a microwave?
And when my kids chanced upon the sparkling microwave, they could not resist asking for a chocolate cake, which I too was very happy baking. Click here for Banana Cinnamon walnut cake recipe.
Here's a quick recipe for the moist and decadent eggless chocolate cake made in just 7 mins!
Ingredients required:
Refined flour / whole wheat flour: 1½ cup
Unsweetened cocoa powder: ½ cup
Baking powder: ¾ teaspoon
A pinch of salt: intensifies the sweetness
Oil: ½ cup
Milk: 1½ cup
Brown sugar: 1 cup
Procedure:
Sift all the dry ingredients together. Sifting aerates the flour, which makes a light and soft cake. Mix the dry ingredients with a spatula until well combined.
To the same bowl (dry ingredients) add sugar, milk, and oil. Whisk them together until no lumps are seen.
Grease a microwave bowl with some oil.
Pour the wet batter into the greased bowl. Make sure the batter is half-filled in the bowl as there should be room left for the cake to rise. Gently tap the cake bowl to release the trapped bubbles.
Place your bowl in the center of the microwave.
Set the timer to 7 minutes on HIGH (100%) power. Energy outputs vary from one microwave to the other. So bake it for 6 mins first and if required for another 1 or 2 min.
Allow the cake to cool in the bowl itself, before inverting it onto a plate.
And here you go! Treat yourself to this super moist and delicious cake. The cake finished in less than 20 mins! And it left my child craving for more.
Thanks to Cif perfect finish oven and grill cleaner which makes it easy to clean inside of a microwave and I get to cook new recipes in an as-good-as-new oven every time.
Cif perfect finish oven and grill cleaner is just perfect! You can buy Cif perfect finish oven and grill cleaner from here.