This Post May Contain Affiliate Links. Please Read Our Disclosure Policy here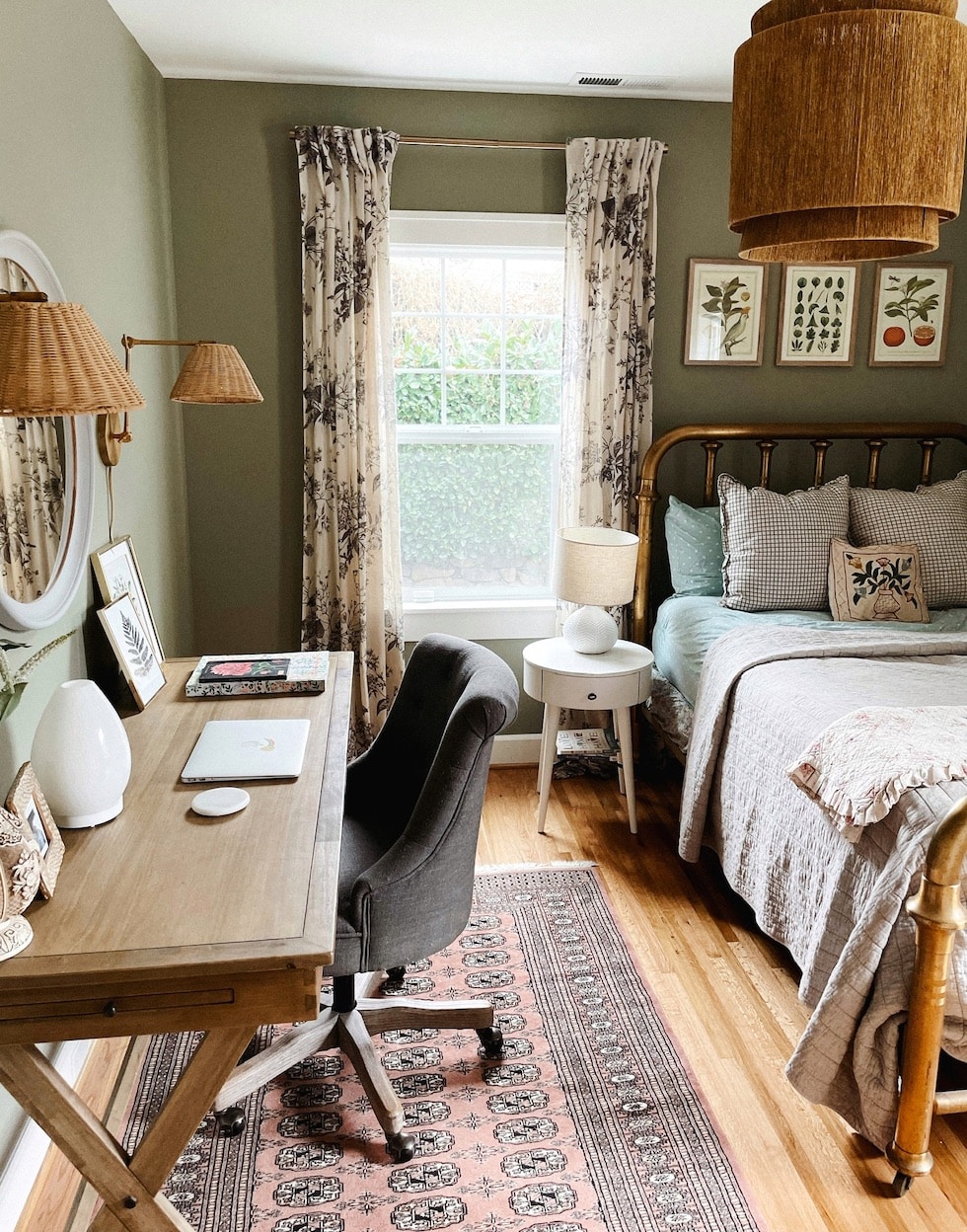 Kylee here today to share my home office guest room makeover! This started out as simply a guest bedroom makeover, but recently my husband got a new job where he was on video meetings more often and sharing our home office wasn't working out as well as it had been. So, I had an idea! What if I turned our main floor guest bedroom into a home office/bedroom hybrid? When my mom was here for Christmas we did a little rearranging to see if a desk would fit and the rest is history!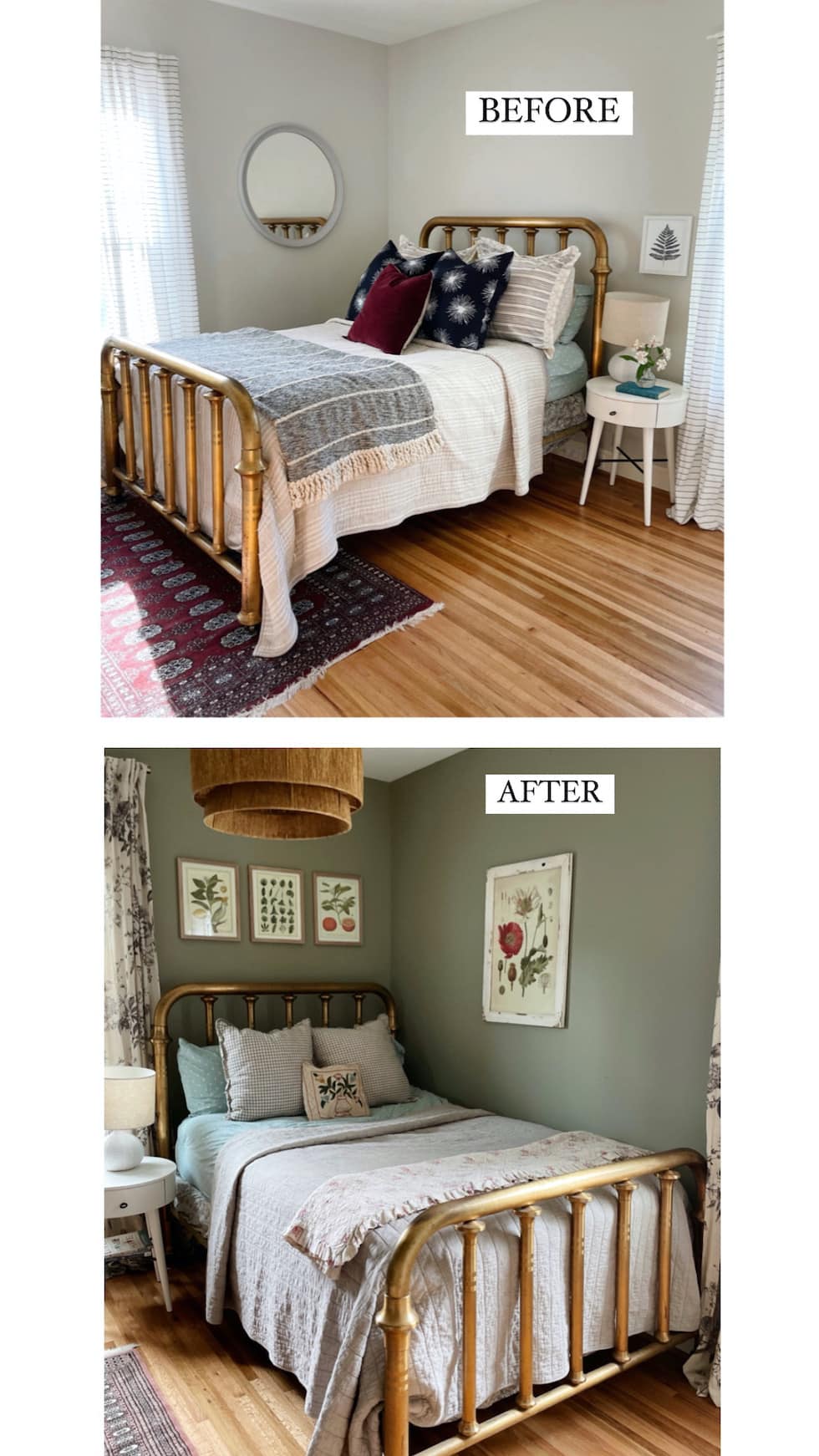 Above you can see the before and after of how we repositioned the bed to make room for a desk. The bed placement in a corner isn't necessarily ideal for making the bed or for two people sharing it, but I typically only have guests 2-3 times per year, so I'd rather have it work for me on a daily basis! The bed is on wheels so I can easily bump it out a bit if needed when I have visitors. 🙂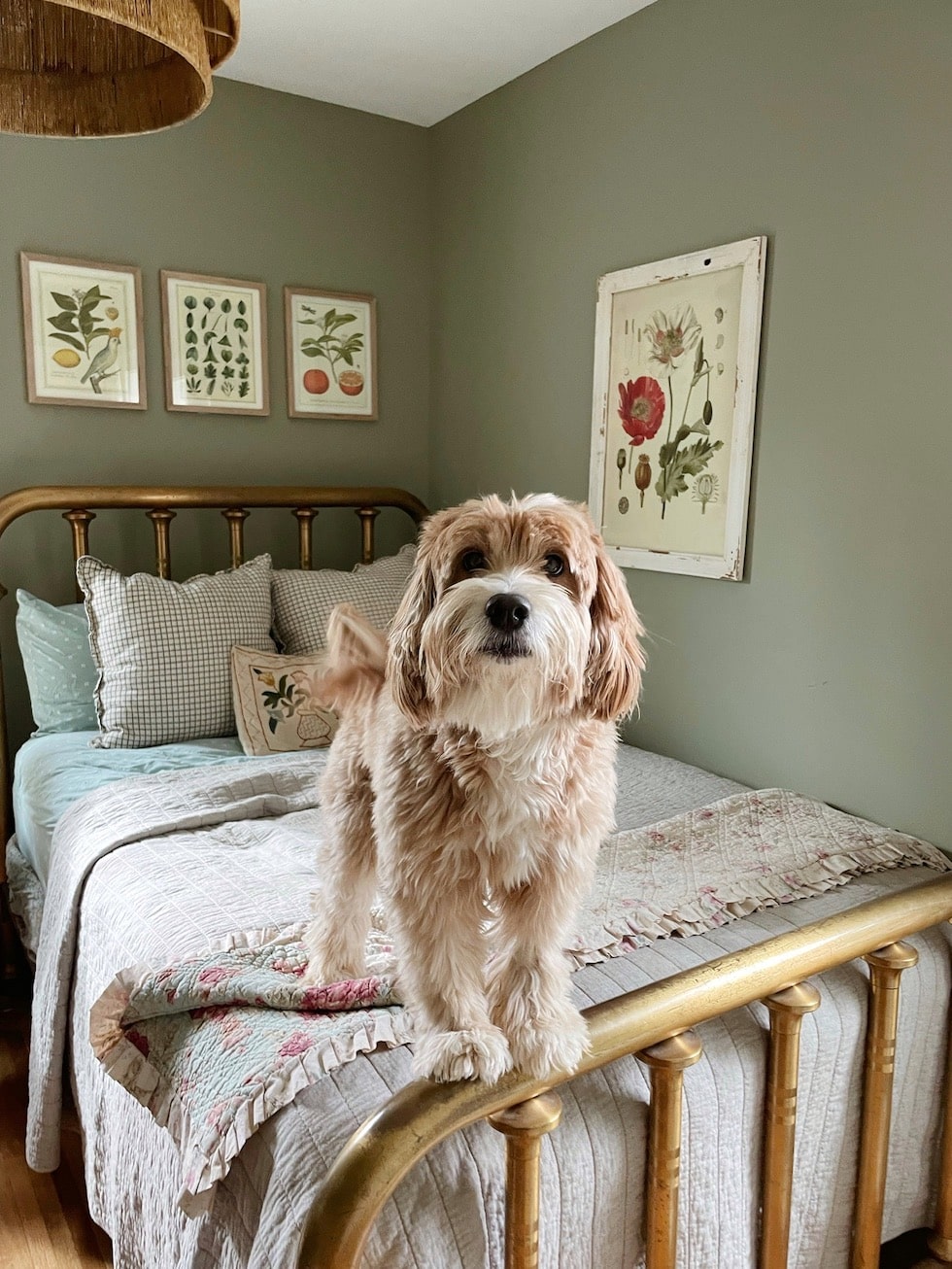 This makeover was very much a "use what I had" situation. The only thing I bought specifically for the room was the hanging light, but I had actually bought it when I planned on it only being a bedroom and it would have hung over the bed. I may have made a different choice if I had known how it would end up!
You might recognize the desk and chair from my home office makeover back when I lived in my townhouse. The rug was passed down to me by my grandparents when they moved up to live with my parents. The brass bed I've had for years, another amazing hand me down that's been in my family for generations. The bedding is what I had from previous guest room designs. The nightstands and lamp are from our primary bedroom in our previous home.
The curtains, windowpane pillows, and sconces I bought last year because I loved them, but wasn't sure where they would go. All that to say, nothing goes perfectly and yet it all works. Honestly, spaces that you don't "plan" from scratch sometimes turn out to be the best ones. I love a room that feels a little unexpected, like it came together over time. Collected rooms usually have a lot more personality than something you where you just bought everything from one collection at a specific moment in time.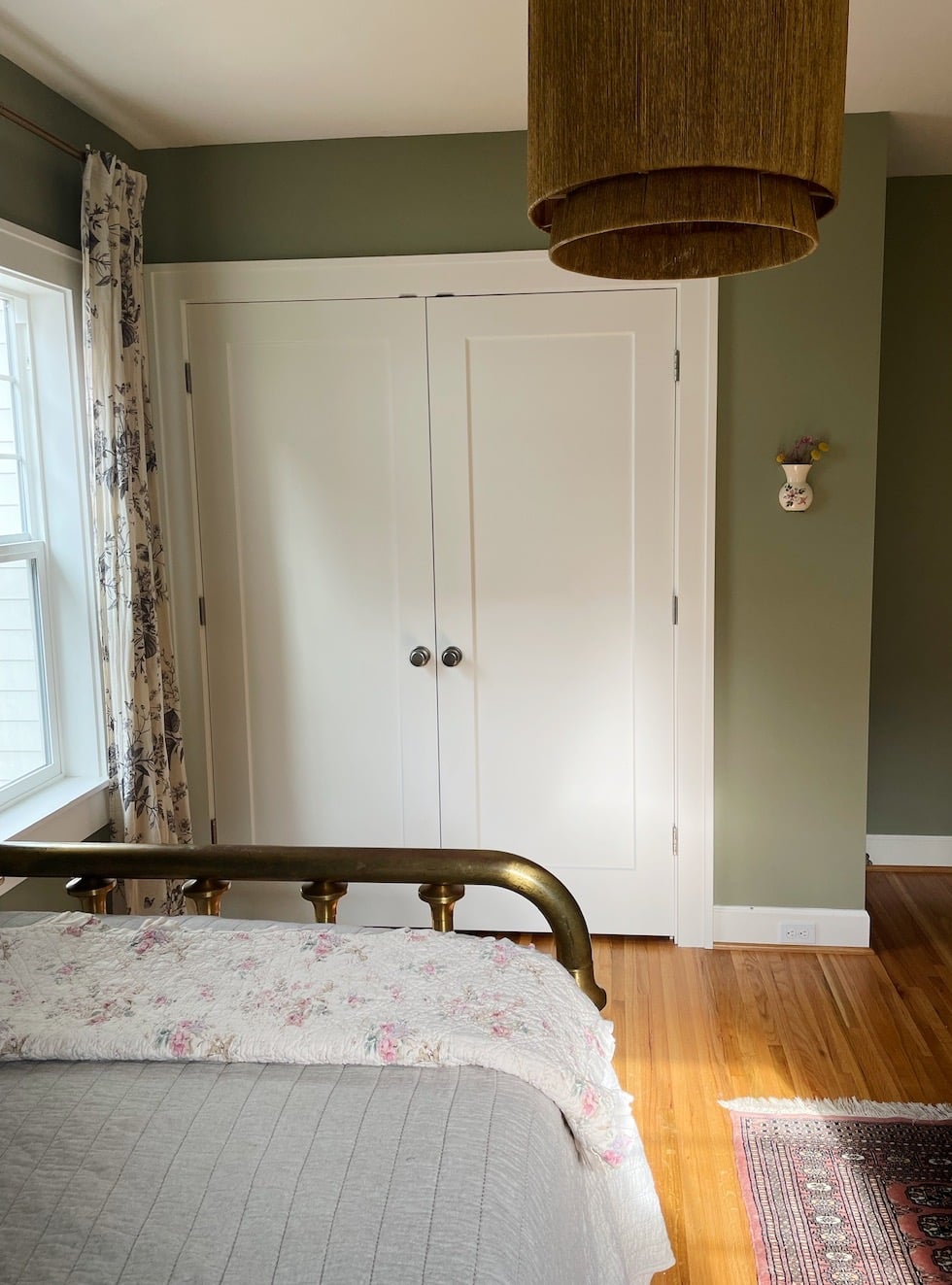 The curtains are these super affordable linen ones. They are very light weight, so if your windows are large you may want to double up on each side! They are usually out of stock, so here is an alternative option that looks quite similar!
That cute little "wall pocket" was a thrifted find. Ever since I saw this beautiful blue and white one on Kelly's wall I've been on the lookout for them. Now I can't stop seeing them! I got another one that I plan to use outdoors. A couple vintage blue and white ones have caught my eye: here and here. Sooooo I might become a wall pocket collector. Just wait, soon every wall will have a vase attached to it….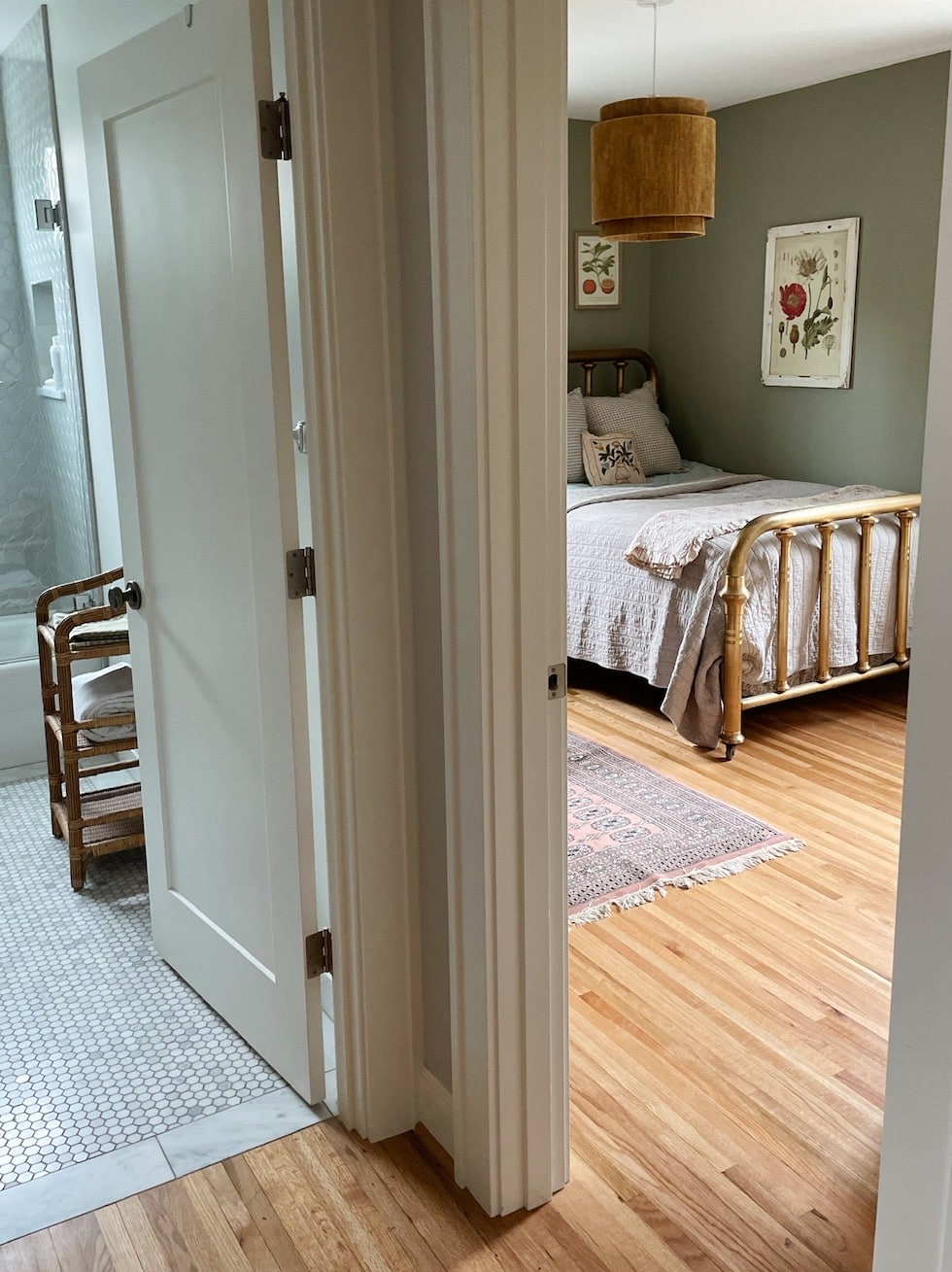 The view into the room. It's next to our main floor bathroom, and my husband's office sits on the other side of the bathroom. So, we're still close, just not sharing a space anymore. 🙂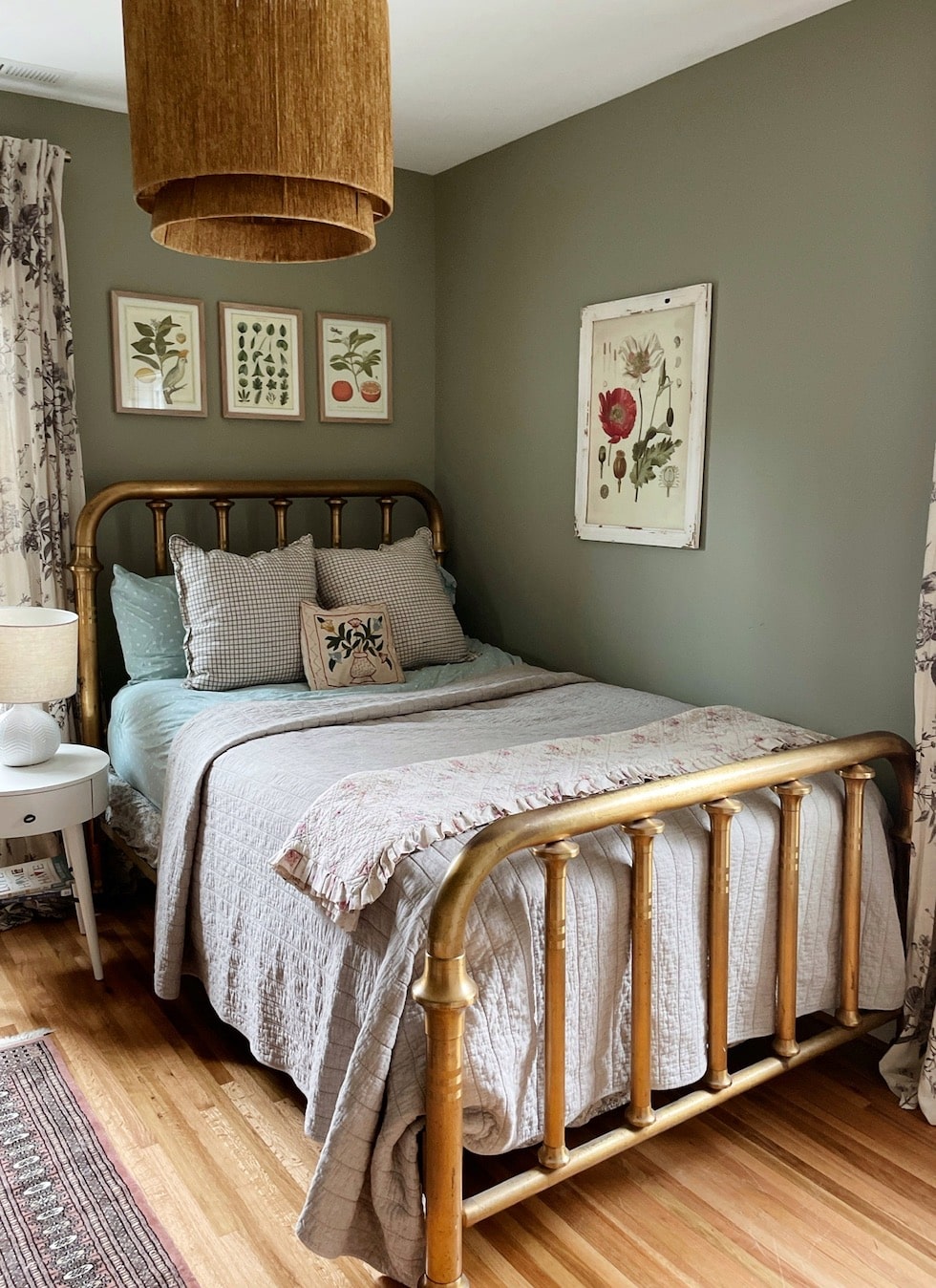 I've always loved a brass bed–this one is a full size vintage Simmons from the early 1900s that actually belonged to my great, great grandma! Ebay or Etsy would be a good place to start if you're looking for vintage brass beds–like this one or this one. This new one is lovely, too. The reversible patterned quilt is something I have had since I was a kid, so I don't have a source for it, but this shop sells some lovely quilts!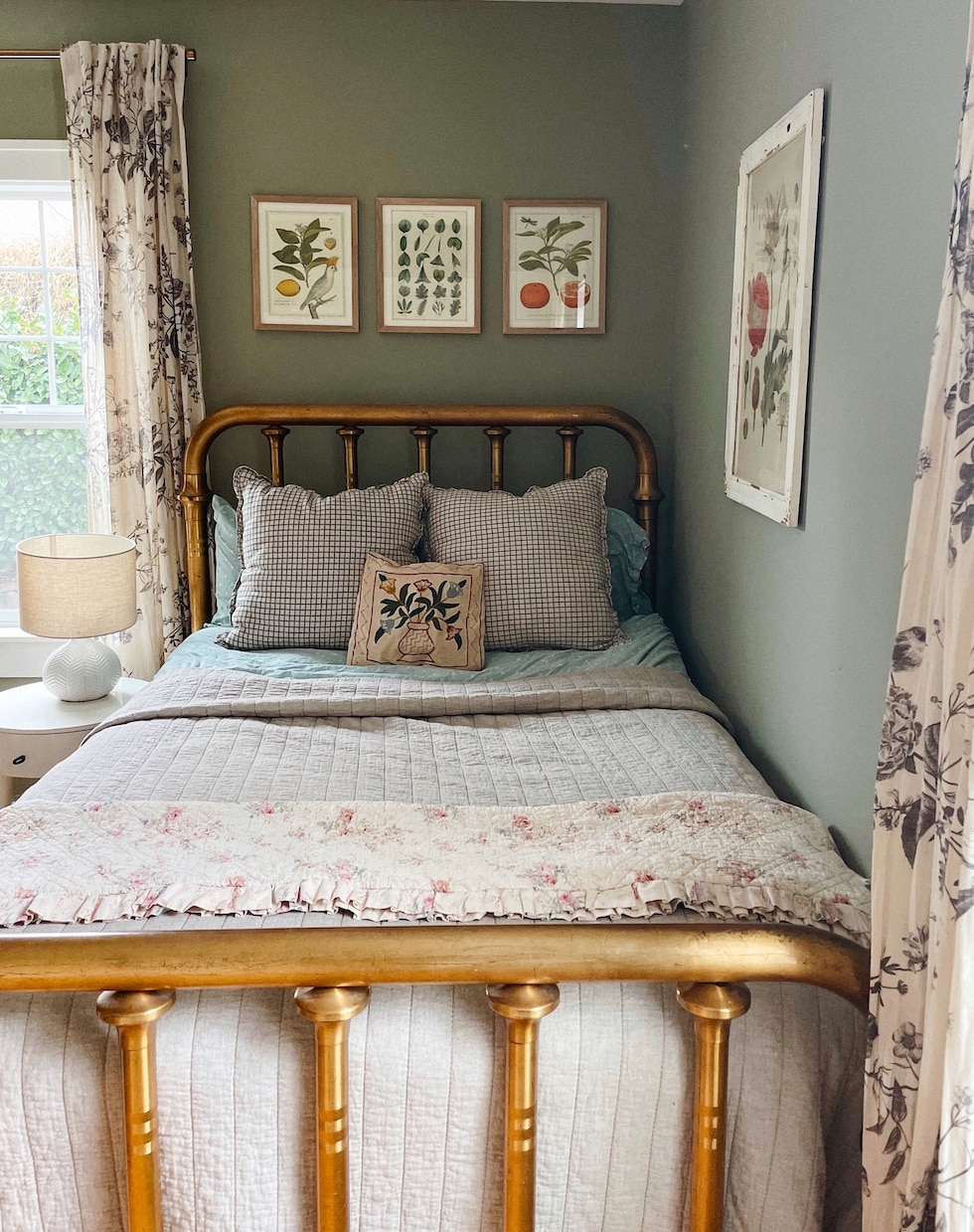 The art above the bed is actually cut out of a Cavallini calendar my mom bought me in 2018. It was a great gift because after having it up as a calendar you use the art! This 2023 wildflower calendar version is beautiful. The larger botanical was a great find many years ago at a garden center in Seattle.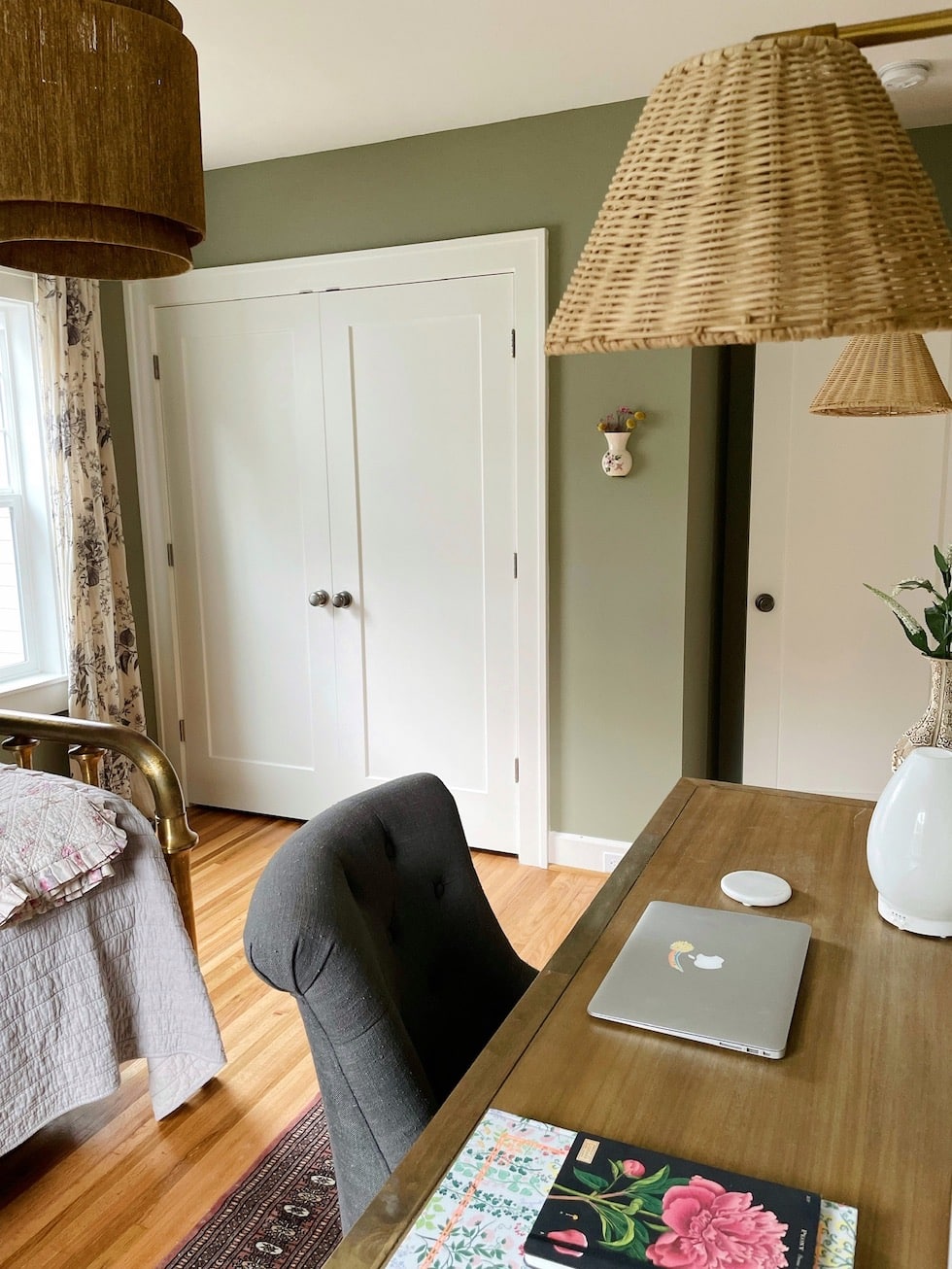 One of the biggest differences to the space was the wall color! I had a vision for green, I really wanted a subdued gray green color that wasn't too dark and wasn't too light. We ended up going with Louisburg Green by Benjamin Moore and it's perfect! It's a bit of a chameleon and does change colors a bit throughout the day. It looks very similar to Farrow & Ball's Lichen.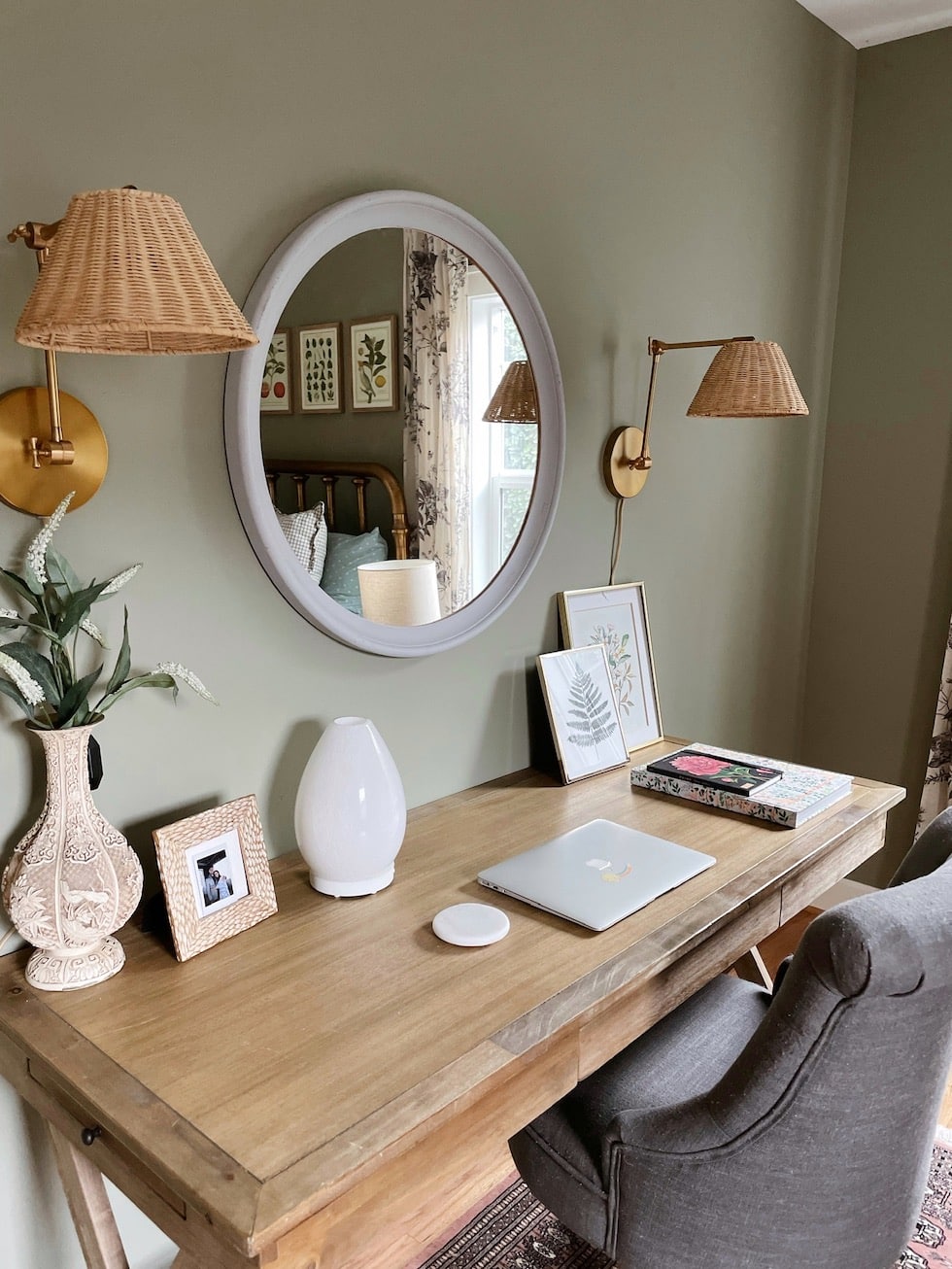 The plug in wall sconces I originally got as a possibility for either side of our bed, but I decided I didn't want them there. I never returned them because I had a feeling I would find a spot for them. They are great because they are fairly affordable, have an adjustable arm so you can hang them a couple different ways, and have a dimmer switch.
Note, I made a little modification to the shade…I stained them with coffee! I will share about how I dyed them on my Instagram this week so stay tuned! It's really easy, you can do it with things like baskets, wicker, or even wood. Pretty much just dip or wipe with brewed coffee, easy! They were a natural, light color before and I liked them as is, but I wanted them to better match the hanging light in the room.
It's a bit of a tight squeeze, but it works! Utilizing your guest room as an office is a great double-duty way to save space. I never really had a reason to be in this room before, but now I'm in here every day!